National League iSecure Swords Thunder, the formidable local ladies' basketball team, has roared back to life this season, demonstrating an astonishing turnaround from their previous year's performance in the Basketball Ireland MissQuote.ie National League. Last year, they achieved a modest record of 4 wins and 14 losses, but this season, they are emerging as a force to be reckoned with. The turning point for Swords Thunder has been the strategic acquisition of pro-player, Jensen Caretti, hailing from Ohio State. Caretti has proved herself as a scoring machine, consistently delivering a stellar performance with an impressive average of 20 points per game. Her exceptional skills and experience have breathed new life into the team and positioned them as competitors this year. Adding to the excitement, Jasmine Walker, originally from New Jersey, but who has dedicated her last five years to Irish basketball, has been an invaluable addition for the team. Her strong presence on the court and her unwavering dedication have further fuelled the team's resurgence. iSecure Swords Thunder's remarkable journey back to the top has been highlighted by their exceptional start to the season. They kicked things off with a thrilling victory over Phoenix Rockets, the reigning League Cup Champions setting the tone for the season. Their remarkable momentum continued with a resounding win over the National Cup Winners, Dublin Lions. Excited fans and supporters can stay up-to-date with the latest scores, highlights, and game information by following the Swords Basketball Club on their social media channels. Swords Thunder is eager to continue their incredible journey through the National League, and their recent successes suggest that they are well on their way to becoming a formidable force within women's National League basketball. As the season unfolds, expect more thrilling games and a continued display of excellence from iSecure
By Ken Duffy
Swords Tidy Towns attended the National Tidy Towns Awards in Croke Park on the 6th Oct where we were successful in retaining our Silver Medal status making it six in a row, just like the Dubs. There were only three tickets made available to each Tidy Towns group as the venue as it only caters for 600 seated invited guests. Naturally there was indeed a little disappointment within the group as we only lost out by one point to Drogheda for the Gold Medal, so close and yet so far. (well done, Drogheda) We organised a special celebratory get together after the awards for our members, the Old Schoolhouse was the venue. We gathered in the Whiskey Room which was kindly made available to us by management to celebrate in private, they also provided us with complimentary food platers for which we are very, very grateful. We held our Annual Tidiest Estate Competition in mid-September. The standard this year was very high which made our independent judge's job that much more difficult. We are very grateful to the sponsors of this year's competition Redmond Property Estate Agents and Hennessy Perrozzi LLP Solicitors for their generous contributions and for their participation in presenting the winners with their awards: Tidiest Estate Winners Were Joint First Place: Carlton Court and Highfields Second Place: The Nurseries – Third Place: Hilltown Enviro Awareness Group River Valley Rise and the Special Bio Diversity Award: Comyn Manor Again, a big thank you to our independent judges Ann O'Meara, Micheal Connolly from the Fingal Horticultural Society and Martin Nulty of Nulty Landscaping. Well done to everyone who took part. Next year we hope to introduce new categories and broaden the scope of our competition, so keep up the great work and we will see you all again next year.
Fine Gael has selected 21-year-old Luke Corkery to contest next year's local elections in the Swords electoral area, which includes the town of Swords as well as parts of Santry, Kilsallaghan and Dublin Airport. The party's selection convention was held in Applewood Community Centre on Tuesday night, and attended by Ministers Simon Harris and Jennifer Carroll-MacNeill, as well as local representatives Alan Farrell TD, Senator Regina Doherty, Cllr. Tom O'Leary and Cllr. Anthony Lavin. Despite his relatively young age, DCU graduate Corkery says he has experience in politics, having worked in Leinster House and having been involved in local campaigns and student activism since his school days. In his address, Corkery said: "I've never been more optimistic for my hometown and its future. If elected next June, I promise to bring new energy to the Council Chamber to stand up for the things that really matter to people right across what is one of Ireland's fastest-growing towns. "I'm a commuter, dependent on unreliable bus services to get me to and from work each day amid traffic chaos. I understand the frustrations of so many others like me. We need to fast-track frequent, reliable public transport that people can depend on. "I'm a young person for whom the prospect of renting, yet alone buying a home locally, seems practically out of reach. We need more homes here in Swords, particularly the large-scale development of affordable housing like we have seen elsewhere in Fingal. It's an absolute priority for me. "Anti-social behaviour, from break-ins to vandalism, has become all too common, and people want to see more Garda patrols out on the beat in their communities. We can by building stronger, safer communities through investment in local infrastructure and a focus on community, neighbourhood policing. Higher Education Minister Simon Harris, who chaired the convention, said: "Luke is a great new candidate; we need young people and energy in politics. We're going to work to deliver a third-level campus for Swords – a College of the Future. It's not right that we don't have a third-level presence in such a large area like this one. I hope everyone gets behind Luke and his campaign." Corkery concluded: "I'm looking forward to taking my message to people across this huge town; the town I've grown up in and lived in my entire life. I'm ready to double down, and I'm only getting started." Corkery hopes to win a seat on Fingal County Council in the seven-seat Swords electoral area in next year's local elections, which take place in June 2024.
Congratulations to our Senior ladies who are Senior Football Shield Champs after the tightest of games v Ballyboden St Enda's recently! Point for point, the teams battled it out until the final whistle showing grit and great determination. Commiserations to the Boden ladies who made it such a hard-fought game. Well done to Olivia & Clara from the U12's who did a fantastic job as mascots too! Thanks to Peter @gaapics_ireland for photos.
We were delighted to welcome renowned celebratory chef, food writer, and television presenter, Donal Skehan, to St. Mary's to launch our new Home Economics Kitchen. Donal was met by Dr. Edel Greene, Principal, Mr. John Moore, Deputy Principal and Home Economics Teacher, Ms. Rachel Flynn. To celebrate the occasion, we held a Creative Tasty Cupcake Bake-Off Challenge. Donal met the contestants and discussed ingredients, presentation and cooking tips with each of them. While the cooking got underway, Donal then viewed the many new improvements throughout the school. A visit to the principal's office was arranged so that Donal himself could test our new intercom system! Once tested, it was off to the new Kitchen where Donal was met by all the Home Economics students and Senior Prefects. Following fanfare and drumroll, Donal cut the ribbon to launch the new kitchen. Recently retired home economics teacher Mrs. Bernie Donnelly, who had spent her entire teaching career in St. Mary's, attended with current Home Economics Teacher, Ms. Rachel Flynn. Donal then dropped in on the Bake-Off Contestants to examine progress and was clearly excited by what he saw and was looking forward to savouring the delights later.
Following tea and coffee with the staff, Donal then returned to Judge the Bake-Off Competition. There was very strong competition between the candidates and following some serious examination and tasting of the cupcakes with an emphasis on creativity, culinary skills, presentation, and taste, Lauren Bannon was declared the eventual winner. Well done Lauren.
Donal signed school books and a presentation was made to him. Looks like we have an annual Bake-Off Challenge agreed and we were delighted the next day when Donal had arranged for a fantastic supply of Cook Books, many signed by his friends, were dropped down to St. Mary's for the Home Economics Library.
Get ready for an unforgettable weekend at the many ParkRun Ireland locations in Fingal County Council! Lace up your running shoes or take a leisurely stroll with our amazing Walk at Parkrun participants. No matter your pace, there's something for everyone to enjoy.
Register now at //parkrun.ie and be part of the action-packed fitness event supported by Sport Ireland. Join our vibrant community and connect with like-minded individuals who share your passion for an active lifestyle. Get inspired, make new friends, and conquer personal milestones together. Don't miss out on the excitement!
"Thank you to all the people of Malahide for your donations of sewing machines and tools for Solidarity. This is an update of progress to date": The Malahide Lions Club campaign in support of the Belfast based voluntary charity Tools for Solidarity (TFS) has so far yielded 240 unwanted sewing machines and 250 various other tools as well as some larger industrial machines. These have been collected by TFS and will be fully refurbished before shipping to projects in various parts of East Africa which provides training and supports artisans to create employment opportunities and help local communities become more self-reliant. The larger industrial machines can be used for group training in Tanzania. Once a van load has been gathered and assembled, TFS will organise collection of the machines and tools. Any club considering the launch of a collection campaign in its area can of course get more detail from the Tools For Solidarity website, and is very welcome to email the Lions Club at malahidelionsclub@gmail.com or to call Damian on 089 4585 090 for further information or advice. The donated items collected by Malahide Lions Club are stored by Swords Men's Shed until a van load has been assembled for collection by TFS. The provision of this facility for the temporary storage of these heavy and bulky items is a key element of the project and we are grateful to Swords Men's Shed for their vital assistance."
What better way to train than indoors in these winter months, while still reaching your fitness goals, learning a new skill, learning to possibly become an Olympic champion and become disciplined than at Junsa Taekwondo. We have been busy taking on new students all the while our older students are honing their skills for tournaments and the upcoming club grading. We have also had a visitor form Brazil who brought loads of knowledge to the club.
It's been that part of the year when the lead up to the autumn marathons meets the start of the Cross - Country season so most of our club athletes have been in action of some kind. Well done to all our juveniles who have taken part in the first two cross country leagues and to all our adult members who have completed a marathon or other race recently.
The club Christmas party and awards night takes place on Friday 8th December so don't forget to buy your tickets. Have you listened to our podcasts ? There are ten episodes available so far and they are full of excellent interviews with club members and well-known personalities from the world of athletics.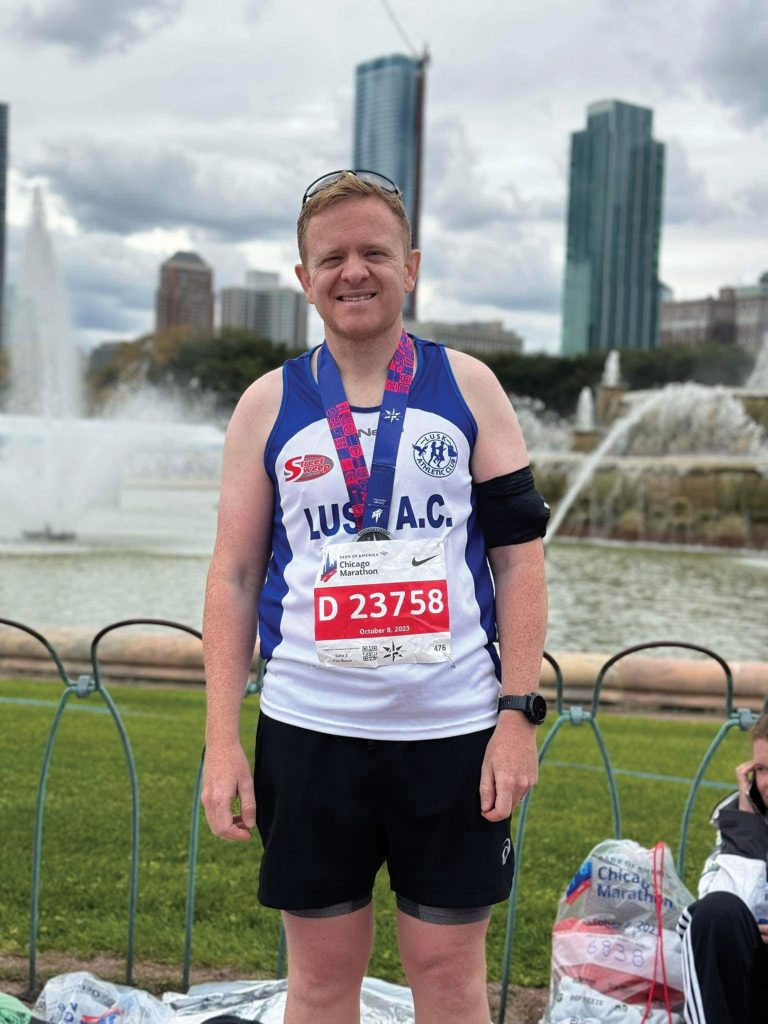 The TAP BAR is open to Christmas Reservations – Reserve Tables/Section in our Tap Bar! Get in touch now!! Nursery, LGFA, AMFC, GAA Boys and Girls – The Club would like to invite new members to play GAA – Please Get in Touch! September Round Towers U11 Boys took to the field and thanks to Good Counsel Liffey Gaels for the game on a sun soaked TAP2. Before our League game, some of our 2011 boys presented Gerry Butterly of Airport View and Secret Spa,Blakes Cross, with an O'Neills top. Airport View have kindly sponsored the squad. With a great menu at Winters Restaurant and Spa in one location, you can truly relax. October Round Towers U13 boys were delighted with the support at their hurling match in Round Towers on the day of the official opening of the new Astro pitch. They had an impressive league match win against St Anne's. September Round Towers Adult Men's Football Committee (AMFC): What an amazing night we had at our monthly retired members and friends evening on Tuesday (28th September) night in the club. We had some very special guests in attendance. Sam Maguire, Brendan Martin, Liam McCarthy and the Fr Larry Murray cups were accompanied by men's and ladies Dublin senior players Carla Rowe, Caoimhe O'Connor and Lorcan O'Dell. If anyone would like an original copy of the photos taken at the event please contact Ciara Smyth directly on 087 6152958. The Traditional Music Night on the last Tuesday of the months has been a huge success Entertainment – The TAP Bar in GAA club in Lusk has got some fantastic events coming over the month and would be delighted to see you there and enjoy some Live music: (A) Cliché – 4th November – (B) Poker Classic – 10th November (C ) Odd Couple – 18th November. More to be confirmed check our TAP Bar Facebook page! Enjoy sporting events on the big screen in the TAP on the Big Screen. TRAD Night – Last Tuesday every month great music night session in the TAP Bar Stay posted on Facebook on upcoming events..Enjoy GAA matches and other sports event with light refreshment on large screen in TAP BAR. Outdoor seating area available.