What better way to train than indoors in these winter months, while still reaching your fitness goals, learning a new skill, learning to possibly become an Olympic champion and become disciplined than at Junsa Taekwondo. We have been busy taking on new students all the while our older students are honing their skills for tournaments and the upcoming club grading. We have also had a visitor form Brazil who brought loads of knowledge to the club.
It's been that part of the year when the lead up to the autumn marathons meets the start of the Cross - Country season so most of our club athletes have been in action of some kind. Well done to all our juveniles who have taken part in the first two cross country leagues and to all our adult members who have completed a marathon or other race recently.
The club Christmas party and awards night takes place on Friday 8th December so don't forget to buy your tickets. Have you listened to our podcasts ? There are ten episodes available so far and they are full of excellent interviews with club members and well-known personalities from the world of athletics.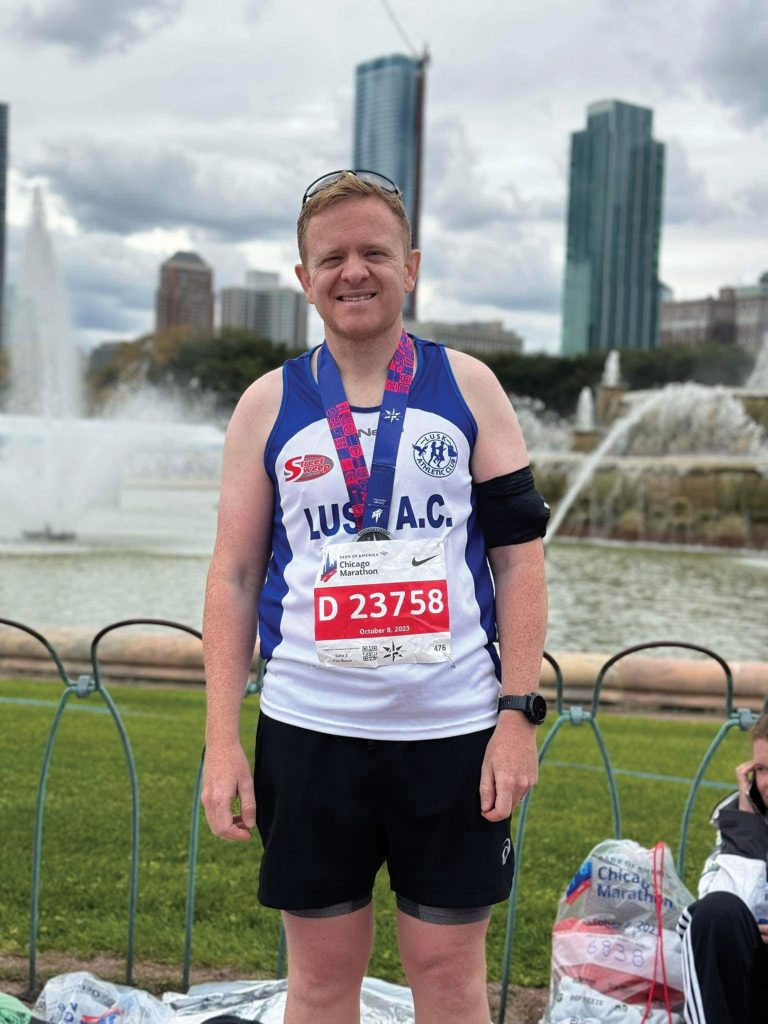 The TAP BAR is open to Christmas Reservations – Reserve Tables/Section in our Tap Bar! Get in touch now!! Nursery, LGFA, AMFC, GAA Boys and Girls – The Club would like to invite new members to play GAA – Please Get in Touch! September Round Towers U11 Boys took to the field and thanks to Good Counsel Liffey Gaels for the game on a sun soaked TAP2. Before our League game, some of our 2011 boys presented Gerry Butterly of Airport View and Secret Spa,Blakes Cross, with an O'Neills top. Airport View have kindly sponsored the squad. With a great menu at Winters Restaurant and Spa in one location, you can truly relax. October Round Towers U13 boys were delighted with the support at their hurling match in Round Towers on the day of the official opening of the new Astro pitch. They had an impressive league match win against St Anne's. September Round Towers Adult Men's Football Committee (AMFC): What an amazing night we had at our monthly retired members and friends evening on Tuesday (28th September) night in the club. We had some very special guests in attendance. Sam Maguire, Brendan Martin, Liam McCarthy and the Fr Larry Murray cups were accompanied by men's and ladies Dublin senior players Carla Rowe, Caoimhe O'Connor and Lorcan O'Dell. If anyone would like an original copy of the photos taken at the event please contact Ciara Smyth directly on 087 6152958. The Traditional Music Night on the last Tuesday of the months has been a huge success Entertainment – The TAP Bar in GAA club in Lusk has got some fantastic events coming over the month and would be delighted to see you there and enjoy some Live music: (A) Cliché – 4th November – (B) Poker Classic – 10th November (C ) Odd Couple – 18th November. More to be confirmed check our TAP Bar Facebook page! Enjoy sporting events on the big screen in the TAP on the Big Screen. TRAD Night – Last Tuesday every month great music night session in the TAP Bar Stay posted on Facebook on upcoming events..Enjoy GAA matches and other sports event with light refreshment on large screen in TAP BAR. Outdoor seating area available.
Lusk ICA recently held a Coffee Morning in the Top Shop, which was a great success, and we want to extend a big thank you to everyone who baked and donated all the lovely gifts for the raffle. The figure raised was a wonderful €3,230. We also want to extend our congratulations to Dublin Federation ICA on coming 2nd in the National Pitch & Putt Competition in the Seapoint Pitch & Putt Club. Returning to the activities of Lusk ICA, 10 Of our ICA ladies recently enjoyed a wonderful overnight stay in TV chef Nevin Maguire's McNean House & Restaurant in Blacklion County Cavan. The ladies said the food was exceptional with every course perfectly presented and the tastes were unique and amazing. We also want to remind all our members that some of our Ladies meet to go sea swimming in Rush every Saturday morning at 11.00 and all members are welcome to join them.
Annual Christmas Card launch will take place on Friday 17th November, 2023 in Murray's Bottom Shop at 8.30 pm. All welcome. This is the 34th year of the Tidy Towns Cards. The thought and act of sending a Christmas Card is part of an exchange of esteem, long cherished by Irish people. To send a card with a sight and sound of Lusk makes everyone's friend feel special. Mass for the deceased at Balrothery Union Graveyard will be held on Sunday 5th November at 11.30 Mass in St MacCullins Church, Lusk Congratulations to Lusk Tidy Towns Committee on improving their Marks by 9 points and being placed third in Dublin in this year's National Tidy Towns Competition and to everyone involved in keeping Lusk Tidy. Results in their category 7 Large towns section: (1st place) Skerries – (2nd place) – Shankhill – (3rd place) Lusk. Well done and congratulations to our neighbouring towns.
It was with heavy hearts recently that we bid farewell to a true hero and friend whose unwavering dedication and tireless efforts have left an indelible mark on our community. Knel Deeb R.I. P was one of the first to volunteer for Lusk Action Group when we set it up some years ago and quickly established himself as a key member of the committee who got a lot of things done without fuss or fanfare. Knel was warm and engaging and loved a good debate, he was never afraid to touch controversial subject matter and was genuinely interested in people and what their own interests and passions were, he wanted to ensure that all angles to a problem were considered and discussed. Knel loved his town and was genuinely committed to making it a better place for everyone. His contributions were as diverse as they were impactful. Outside of the Action Group, Knel was also involved in so many ways in other groups within the community. Coaching the under 10's in Lusk United, being a member of Lusk Autism Friendly Town committee, litter picking regularly, being our safety officer for the Lusk Summer Festival, founding organiser of our Christmas Lights, helping the ICA out when they needed it and, of course, being a part of our own committee, it may be a small comfort that Knel, the son of Lusk who cared so deeply about his community was also very much loved in return. Knel had time for everyone, always a chat or a laugh or kind words. He quietly got on with doing small things for people, that made a big difference. He was a devoted family man, to his wife Martha and to his children Natasha, Nathan and Aidan, his parents Maeve and Abraham and his five sisters: Seren, Yvette, Nyssan, Kyma and Ryam and cousins. To you all, we extend our deepest and heartfelt condolences on your profound loss.
Rest in eternal peace, dear friend. Your legacy will forever live on in the hearts of those who
were fortunate enough to have known you.
Cllr Rob O'Donoghue has welcomed the completion of works on the Rush and Lusk Educate Together and the handing over of the green space opposite the Forge estate to the charge of Fingal County Council. The works on the Rush and Lusk Educate Together Building are now completed. The contractor is due back to site to carry out some snagging and maintenance work to the Rain Gardens and issues that were identified through an independent Road Safety Audit. O'Donoghue commented 'I would like to congratulate Principal Noel and all the team in RALET on the completion of the building of the new premises for the school. Over the last few years Noel has really driven the project forward in the face of previous issues with securing a contractor and both the staff and parents of the school can look forward to using the completed facility and bringing the school to new heights.' In other Council news, FCC has as of the start of October taken the green space opposite the Forge on the Lusk Bypass into their charge. Councillor O'Donoghue stated, 'the taking in charge of this land has been a long time coming, I am happy that it is finally over the line and available for public use. I have already spoken with the Operations department regarding getting permission for the sports clubs and other amenities to allowed to use the space for training and provision of services. In a town with clubs with large and expanding memberships the use of this space will hopefully go some way to addressing their acute need for training space.
While our short break is finished, in the background Junsa has been planning our upcoming training sessions and competition calendar for the new season. We are also in preparation for taking on new students of all ages. At Junsa we have specific classes for different age groups of all abilities, from the 5 - to 50 year olds who want something new for fitness, discipline ,to become a black belt or to compete at local or international level Junsa Taekwondo can cater for everyone . If you are interested in an Olympic sport or marital art please contact Stuart on 087 7775202 or on Facebook Junsa Taekwondo.
Our juveniles returned to training in September and the club hosted the first juvenile cross -country league of the season at the hub. Meanwhile our adult section continues to thrive with members taking part in races across all distances. Best of luck to our marathon runners who are almost ready to start their taper before the Dublin City Marathon at the end of October. It's been a hard slog with all the long training runs but it will all be worth it. A big welcome to our latest Fit4Life group.
The art of storytelling is still alive and well in Lusk. On Friday 8th September Lusk Heritage Group proved that in Murray's Pub with their lineup of storytellers, poets and raconteurs. Jim Hawkins from Swords was MC for the night and kept everyone entertained along the way Topics varied from the seaweed wars in Skerries and surrounding areas in the first half of the 1900s, and poems by Jim Finnegan stretching back over the last 50 years of his life. Eilen Sweetman brought back memories of the Square in Lusk, of her family and friends. Vera Stone from Rush enthralled her audience with three old recitations that had everyone falling out of their seats with laughter. Jim Monks gave us all a humorous warning about how the internet, I-phones and laptops are in danger of replacing local north county accents with much poorer versions of language and shorthand truncated writing that he was not at all impressed with. But local poet Damien Donnelly showed us that not all is lost yet. He regaled us with three of his poems about travelling, coming home and making sense of this modern world of ours.
Aidan Arnold gave a fascinating talk about his upcoming book Barnewall de Berneval, 800 years an Irish Norman Family. The book, which he hopes to have available for sale by mid-October, had its origins in a 22-year friendship between local Lusk woman Pat Kelly, Secretary of the Lusk Heritage Group and Sir Reginald Barnewall, the head of the Barnewall family worldwide until his death in 2018. On the night, Pat Kelly remembered friends she met over the years with connections to the rich heritage of Fingal, while Sean O'Gorman gave a not so complimentary account of Lord Holmpatrick of Skerries. His court battles with the farmers of Rush were reenacted by Sean and Jim Monks. At the time John Thorne finished up repeatedly in court, pitted against Ian Hamilton (he of the Hamilton Monument in Skerries,) who demanded to be paid for every cart load of seaweed that the local farmers laboriously drew with horse and cart from Shennick Island for use as fertiliser to grow their crops. Just a sample of all the strange and wonderful stories told and yet to be told about our local history.