National League iSecure Swords Thunder, the formidable local ladies' basketball team, has roared back to life this season, demonstrating an astonishing turnaround from their previous year's performance in the Basketball Ireland MissQuote.ie National League. Last year, they achieved a modest record of 4 wins and 14 losses, but this season, they are emerging as a force to be reckoned with. The turning point for Swords Thunder has been the strategic acquisition of pro-player, Jensen Caretti, hailing from Ohio State. Caretti has proved herself as a scoring machine, consistently delivering a stellar performance with an impressive average of 20 points per game. Her exceptional skills and experience have breathed new life into the team and positioned them as competitors this year. Adding to the excitement, Jasmine Walker, originally from New Jersey, but who has dedicated her last five years to Irish basketball, has been an invaluable addition for the team. Her strong presence on the court and her unwavering dedication have further fuelled the team's resurgence. iSecure Swords Thunder's remarkable journey back to the top has been highlighted by their exceptional start to the season. They kicked things off with a thrilling victory over Phoenix Rockets, the reigning League Cup Champions setting the tone for the season. Their remarkable momentum continued with a resounding win over the National Cup Winners, Dublin Lions. Excited fans and supporters can stay up-to-date with the latest scores, highlights, and game information by following the Swords Basketball Club on their social media channels. Swords Thunder is eager to continue their incredible journey through the National League, and their recent successes suggest that they are well on their way to becoming a formidable force within women's National League basketball. As the season unfolds, expect more thrilling games and a continued display of excellence from iSecure
Congratulations to our Senior ladies who are Senior Football Shield Champs after the tightest of games v Ballyboden St Enda's recently! Point for point, the teams battled it out until the final whistle showing grit and great determination. Commiserations to the Boden ladies who made it such a hard-fought game. Well done to Olivia & Clara from the U12's who did a fantastic job as mascots too! Thanks to Peter @gaapics_ireland for photos.
What better way to train than indoors in these winter months, while still reaching your fitness goals, learning a new skill, learning to possibly become an Olympic champion and become disciplined than at Junsa Taekwondo. We have been busy taking on new students all the while our older students are honing their skills for tournaments and the upcoming club grading. We have also had a visitor form Brazil who brought loads of knowledge to the club.
It's been that part of the year when the lead up to the autumn marathons meets the start of the Cross - Country season so most of our club athletes have been in action of some kind. Well done to all our juveniles who have taken part in the first two cross country leagues and to all our adult members who have completed a marathon or other race recently.
The club Christmas party and awards night takes place on Friday 8th December so don't forget to buy your tickets. Have you listened to our podcasts ? There are ten episodes available so far and they are full of excellent interviews with club members and well-known personalities from the world of athletics.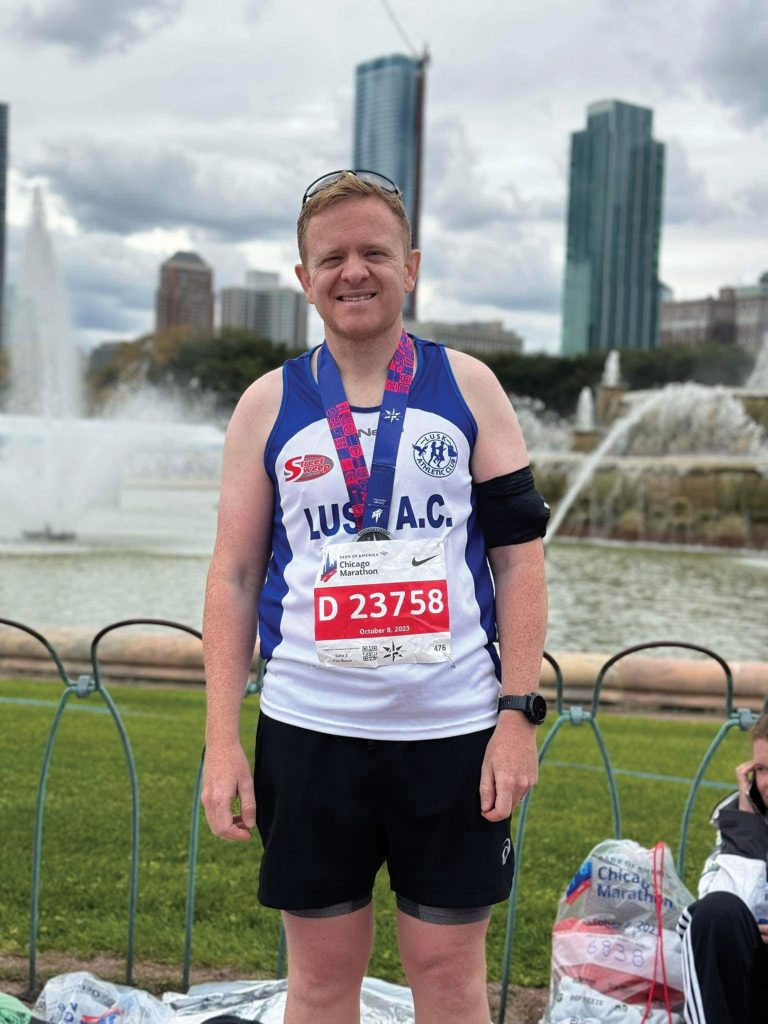 The TAP BAR is open to Christmas Reservations – Reserve Tables/Section in our Tap Bar! Get in touch now!! Nursery, LGFA, AMFC, GAA Boys and Girls – The Club would like to invite new members to play GAA – Please Get in Touch! September Round Towers U11 Boys took to the field and thanks to Good Counsel Liffey Gaels for the game on a sun soaked TAP2. Before our League game, some of our 2011 boys presented Gerry Butterly of Airport View and Secret Spa,Blakes Cross, with an O'Neills top. Airport View have kindly sponsored the squad. With a great menu at Winters Restaurant and Spa in one location, you can truly relax. October Round Towers U13 boys were delighted with the support at their hurling match in Round Towers on the day of the official opening of the new Astro pitch. They had an impressive league match win against St Anne's. September Round Towers Adult Men's Football Committee (AMFC): What an amazing night we had at our monthly retired members and friends evening on Tuesday (28th September) night in the club. We had some very special guests in attendance. Sam Maguire, Brendan Martin, Liam McCarthy and the Fr Larry Murray cups were accompanied by men's and ladies Dublin senior players Carla Rowe, Caoimhe O'Connor and Lorcan O'Dell. If anyone would like an original copy of the photos taken at the event please contact Ciara Smyth directly on 087 6152958. The Traditional Music Night on the last Tuesday of the months has been a huge success Entertainment – The TAP Bar in GAA club in Lusk has got some fantastic events coming over the month and would be delighted to see you there and enjoy some Live music: (A) Cliché – 4th November – (B) Poker Classic – 10th November (C ) Odd Couple – 18th November. More to be confirmed check our TAP Bar Facebook page! Enjoy sporting events on the big screen in the TAP on the Big Screen. TRAD Night – Last Tuesday every month great music night session in the TAP Bar Stay posted on Facebook on upcoming events..Enjoy GAA matches and other sports event with light refreshment on large screen in TAP BAR. Outdoor seating area available.
What a month for LSA all across the club. Our membership has now reached 435, with 200 adult members, 235 Juveniles and Under 20s.Our Juvenile coaches have been busy returning to training with the focus on the Cross-Country season and looking ahead to the Indoor Track and Field season. Our Juvenile athletes took part in the Dublin Cross Country League series with races in Lusk and Tymon Park. Well done to all. Congratulations also to our coaches who have successfully completed Athletics Ireland Coaching courses. Our Juvenile coaches have also been inspiring our younger members: Dara Carr and Eimear Caulfield both have represented Ireland in the recent European Masters Athletics Championships in Pescara, Italy. Dara competed on the track in 100m, 200m and as part of a 4x 400m relay team that placed 4th overall. Eimear was the proud winner of a Gold medal as part of a winning Cross country team! Our adult members have been in top form. Our Fit4Life group is making sure to #nevermissaMonday. Many of our Intermediate and Advanced groups of athletes are now focused on the Marathon, inspired by recent top performances by our Berlin Marathon participants. But whether it's a 2 hr 38-minute marathon, a 38-minute 5k, or helping out at our Juvenile training and events, there's the Power of Support in LSA.
Well done to former Glebe North players Ruby McCarthy, Lia O'Leary and Hannah Healy wo were called into the Republic of Ireland WU19 squad in recent weeks. Ireland played their first game recently against Wales winning 7-0 with our very own 15-year-old Hannah Healy on the scoresheet. Well done girls, we are all so proud of you!
2023 was the first year we brought over an overseas female player , we spoke to Jaimie Lee Strang about how we wanted her to be a role model on and off the pitch and to help us win the league. Well, Jaimie Lee delivered on all fronts and was top class on and off the pitch , she's already back home in Oz and into her new season and we wish her all the best for her season , hopefully more silverware. Thanks for Everything JL
Balbriggan U16s travelled to Drogheda recently to play Boyne RFC 'B' team in the last game of their North East group stage. Two tries from Kajus, one from Conor, and another very strong performance across the squad left the two teams tied on tries scored - the difference at the end being a couple of successful kicks from Boyne.
However, the day was about more than the rugby match; Boyne hosted a memorial event for Andrew Dobson, one of their much-loved coaches who passed away, far too young, a couple of years ago. After the match, Boyne hosted our team and parents to hospitality before presenting awards in Andrew's name.
September was a busy month for the Club. Along with our regular 7 hours of training each week we had two special events. Early in the month our Tigers (4 -7yr olds) and our Juniors (7-12yrs old) were challenged to bring a Parent/Adult with them to training. Parents came out in force to support their kids and took part alongside them in training. They had great fun learning punching, kicking, kata and kumite and left with a newfound respect for what their kids do at training each and every week.
We also hosted a JKS Ireland Interclub Competition mid-month and had competitors attend Applewood Community Centre from Limerick, Monaghan and Drogheda as well as closer to home from Tallaght, Blanchardstown and Coolock. The first half of the morning was devoted to Kata competitions where the competitors gave of their best showing off how well they do Kata. After the break saw the competitors don their mitts for Kumite (Fighting). There were some great displays of karate technique on the day and the results for Swords Karate Club were excellent with members winning 7 Gold, 4 Silver and 12 Bronze medals. We take new members (Children, Young People and Adults) all through the year. Contact Dermot on 087-8073885 for details on how to join. You can also contact us on Facebook: JKS Swords Karate Club or on Instagram: @jks_swords_karate_club